about YESyoga
YESyoga is a luxury yoga studio centered on building healthy practices in and off the mat. Say YES and see how contagious living courageously can be. 
Never allow a person to tell you no who doesn't have the power to say yes.

ELEANOR ROOSEVELT
Our core values
authenticity • connection • growth • adapt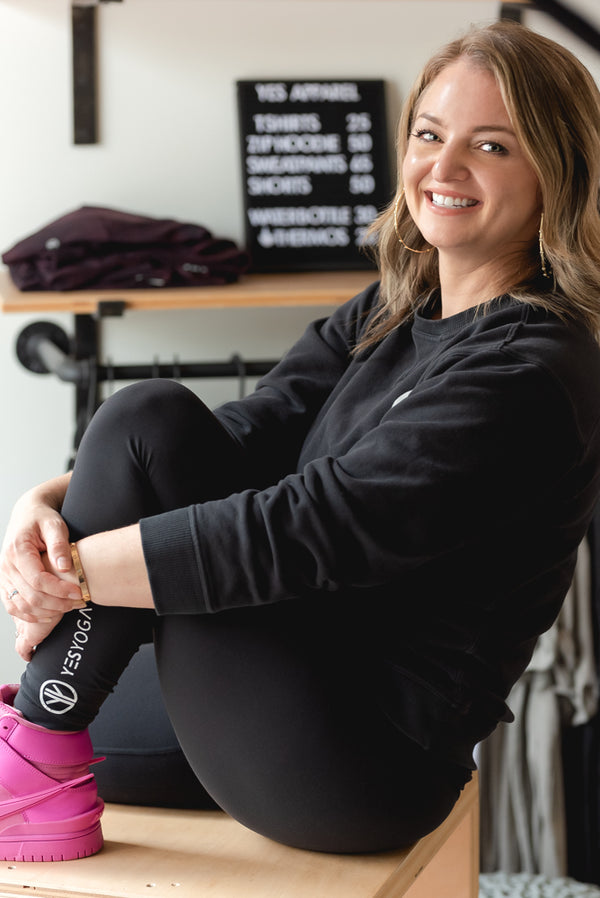 About Erin
Hey there, I'm Erin!
I co-founded YESyoga and we opened in October 2018, and I took over full ownership in January 2020...yup, during COVID!
You'll probably see my family here A LOT. My dad (feel free to call him "G-pa"), my husband Kyle, and our two kids Kollin and Charlotte are always running around the studio somewhere. I love that I get to show my children my drive and I have so much gratitude that my entire family can be part of something I helped create.
I thrive on creativity, I thrive on creating purpose, and I'm bursting at the seams to always trying something new. YESyoga isn't just about yoga classes, it's truly about saying YES to living the life that you want, and I want to help make that happen!
So how did I get here? I've always been obsessed with movement. I started dancing ballet when I was 3 and continued dancing until I was in college (even got a scholarship.) I wanted to be someone like Jenna Dewan Tatum and be Janet Jackson's lead backup dancer, but I grew up in Kansas and went to WSU Barton School of Business instead. I graduated with a Bachelor's in Finance and Real Estate and I'm still very involved in my university, and even started a grant program in 2020 to help other women entrepreneurs say YES to getting their ideas off the ground.
I've always had that entrepreneurial spirit, from selling magazines when I was in elementary school, selling handmade quilts on etsy, and even having my own Stand Up Paddle Board Yoga business. I have that entrepreneurial itch, and some people think I'm crazy, but I love big ideas. I actually run a small property management company as well, but YESyoga is my heart and soul.
After completing my very first teaching training program in 2014, I couldn't wait to create something of my own. I was patient and focused on getting all the training I needed. Currently I have over 1,000 hrs of yoga training and over 1,000 hours of teaching under these yoga pants.
YESyoga is so much more than a yoga studio, it's a place I get to pour my purpose into. It was made to showcase the multifacmultifaceted woman. Whether you're a mom (we have babysitting), an entrepreneur, a badass, a women who knows what she wants, or someone who needs some autonomy and to remove the mask you wear everyday, YESyoga is here to remind you that you are courageous, capable, and strong.
You'll hear me say f*ck, and I love to laugh in class. While I don't take myself too seriously, I take this place and this purpose very seriously and I'm constantly working to create the best experience for you with yoga and lifestyle practices so that you can say YES to living your life with purpose.